< Back to news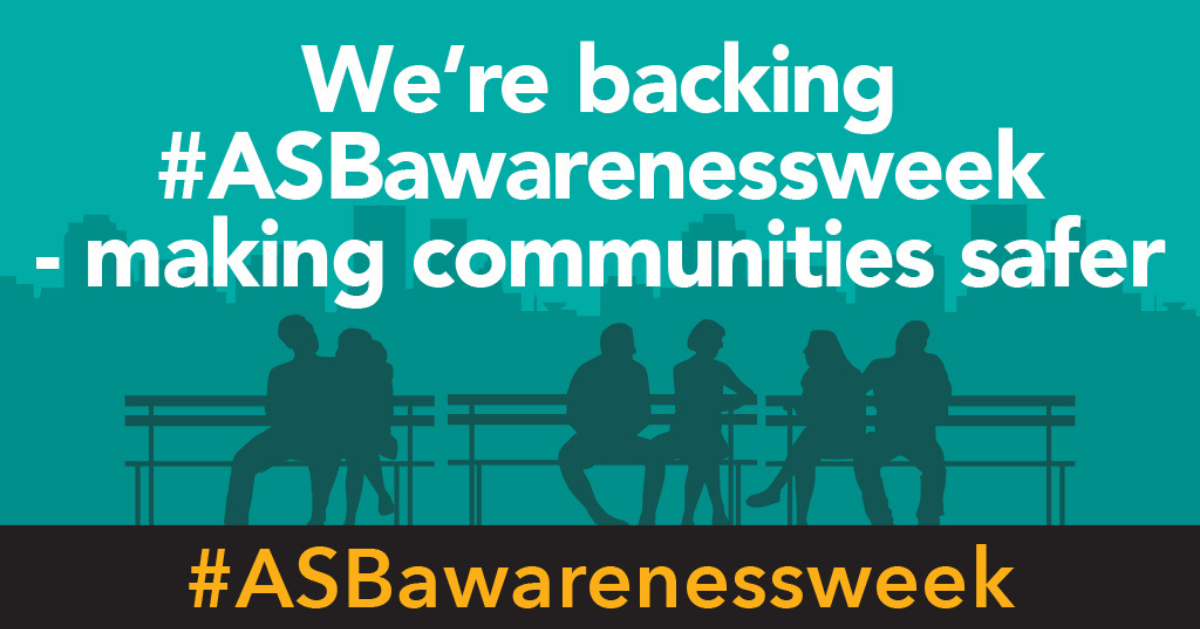 Events and activities planned to mark the UK's first ASB Awareness Week
Date posted:
14th July 2021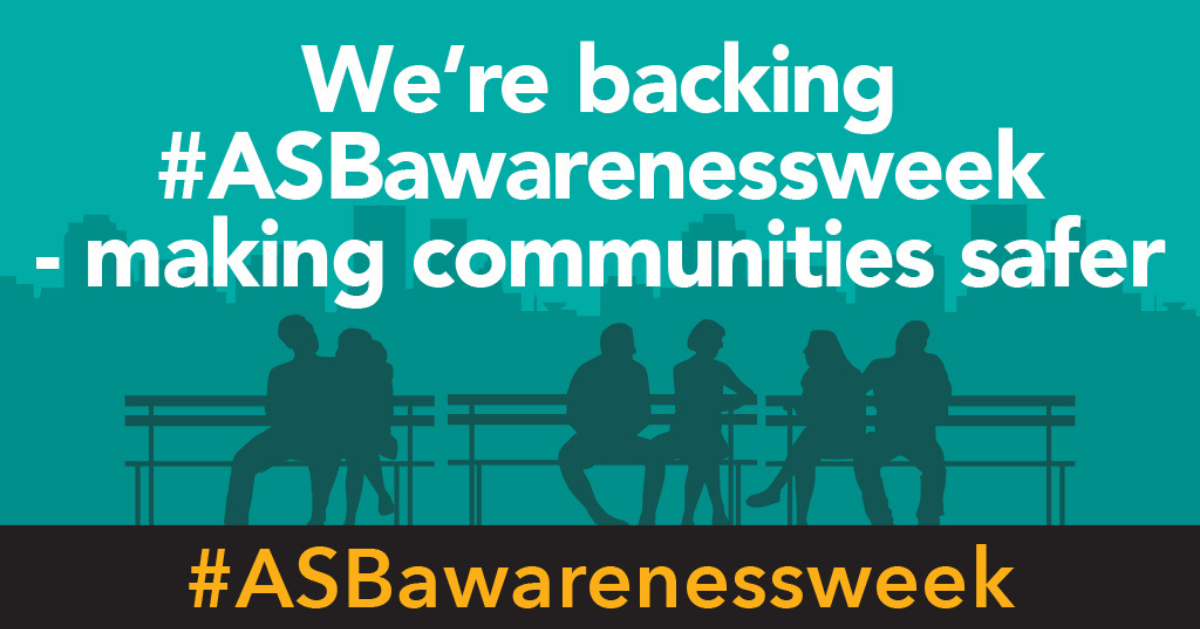 Text
We're delighted to be joining in the UK's first official ASB (Anti-Social Behaviour) Awareness Week - a national campaign bringing together people and organisations from across the country, to take a stand against anti-social behaviour and make communities safer.
Running from 19th to 25th July, ASB Awareness Week – "Making Communities Safer" aims to highlight the options available to those experiencing ASB, and the work being done to make communities safer.
Organised by community safety specialists Resolve, ASB Awareness Week is backed by the Home Office, Ministry of Housing, Communities and Local Government (MHCLG), Local Government Association (LGA), National Police Chiefs' Council (NPCC) and the National Fire Chiefs' Council (NFCC).
Resolve members and agencies across the UK have reported a huge rise in ASB cases during the various national lockdowns, with the situation expected to worsen as society starts to open up.
Addressing this challenge is a national priority. ASB is not low-level crime, it devastates the lives of victims and communities; people deserve to feel safe where they live.
To support the campaign, Halton Housing's Neighbourhoods Team and its partners will be hosting environmental clean-up events, estate walkabouts, graffiti clean-ups, police bike marking, information on nuisance noise and much more.
Sharon Morris, Halton Housing Head of Neighbourhoods said: "ASB Awareness Week is a brilliant opportunity for us to highlight some of the issues residents have experienced. It will also highlight the fantastic partnership work we undertake to help combat ASB, along with the support we provide to all customers should they ever have concerns about safety in their community.
We are fully committed to ensuring individuals feel safe in their communities and neighbourhoods. Everyone has the right to a decent quality of life, and we will do everything we can to support this."
Here's what is planned during the week, including information about how residents and customers can get involved:
Monday 19th July
ASB-focussed estate walkabout on the Montgomery Road estate in Ditton. Starting at 4pm from Ditton Deli, join our Neighbourhoods Team for an ASB focussed estate walkabout on the Montgomery Road to give opportunity for customers and residents to highlight any anti-social behaviour related issues in the area. 
Tuesday 20th July
Raising awareness on the impact of dog fouling. Get involved in our prevention and clean-up of dog fouling, around Coronation Drive, Queens Avenue and Lodge Road. The clean-up will start at 10am to 12pm from Queens Avenue shops. (PPE and equipment will be provided).
ASB estate walkabout around Stewards Avenue. Come along and join us and our partners for an ASB estate walkabout around Stewards Avenue to identify issues and hear customers views. The walkabout will start at the shops on Milton Avenue at 4pm.
Wednesday 21st July
We'll be out in Runcorn Old Town for a mini ASB estate walkabout. Starting at 9:30am from Brunswick House to highlight hot spots for ASB and together discuss solutions.
Mini ASB estate walkabout around Campletown/Lockfield. Help us seek improvements for the area from 11am starting from the bus turning/letterbox on Picow Farm Road.
Information and advice from Halton Borough Council's Environmental Health Noise Team and Cheshire Police Bike Marking Team. Come along to Queens Avenue shops between 1pm to 5pm for advice and information on noise ASB or get your bike marked with a special security marking kit. Halton Housing's Neighbourhood Safety Officer, Lisa Temperley will also be on hand for customers to raise any issues or concerns.
Thursday 21st July
Graffiti clean-up. We'll be back at Queens Avenue shops for two graffiti clean-ups. The first will take place from 10am to 12pm, then from 1pm to 3pm.
Remember, if you or someone you know is suffering because of anti-social behaviour, please tell us.
To find out more about our approach to ASB visit www.haltonhousing.co.uk/help-and-support/anti-social-behaviour or for more information visit www.resolveuk.org.uk/asbawarenessweek.