< Back to news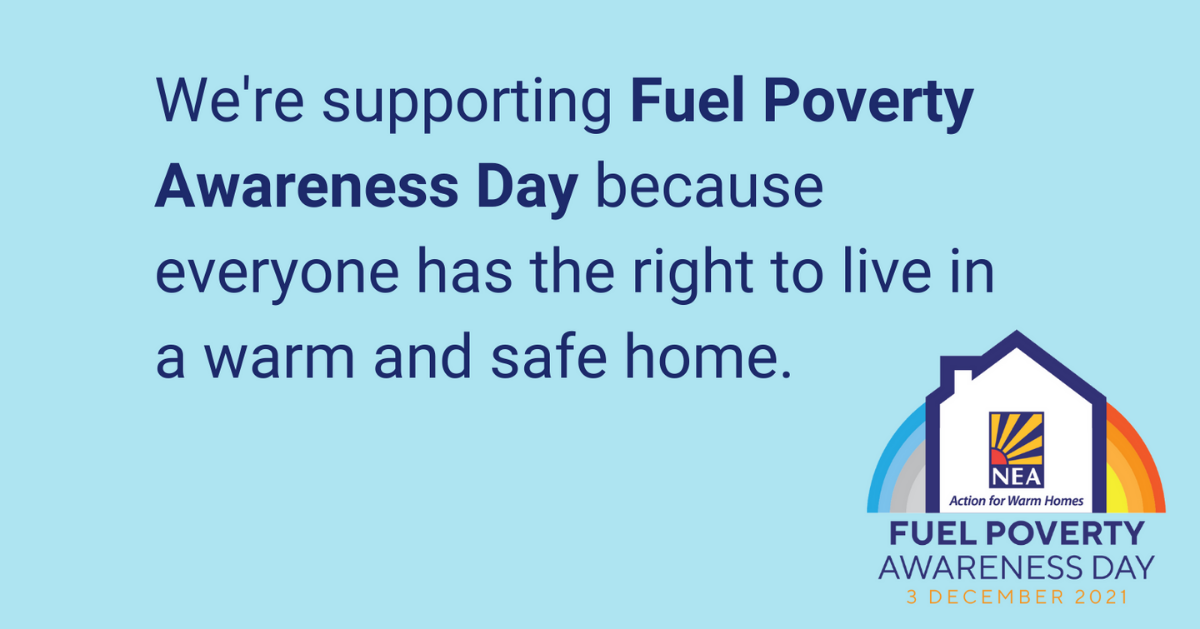 Fuel Poverty Awareness Day 2021
Date posted:
3rd December 2021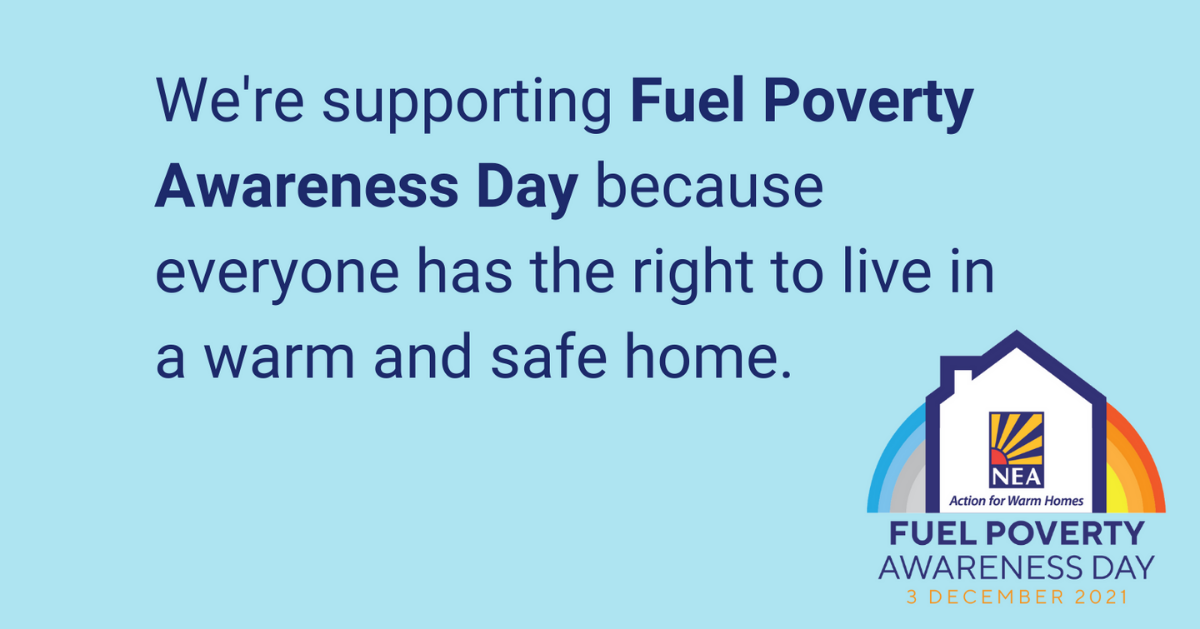 Text
We're helping turn up the heat on Fuel Poverty for Fuel Poverty Awareness Day 2021
Fuel Poverty Awareness Day takes place on Friday 3rd December and is run by charity National Energy Action (NEA).
We're joining hundreds of organisations across the UK to provide energy advice and energy efficiency guidance to our customers.
Many people living in fuel poverty will struggle this winter. For some it could be fatal, in most years around 10,000 people die across the United Kingdom because they are unable to keep their homes warm. This winter looks to be even more deadly as the increase in energy costs will mean that many low-income and vulnerable households may have to ration their energy usage which will lead to illness and misery.
Take a look at our Keep Warm, Keep Well - Cold Weather Advice page for further information on protecting yourself and your home from cold weather during the winter months. 
Where to go for support?
There are various grants and schemes available to help you cover the cost of fuel bills. There's also lots of organisations and charities offering help, advice and support this winter. We've listed several below.
This is a payment made to people who have reached Pension Credit age.
If you are on certain benefits, you may be eligible for these if the weather in your area falls to 0° centigrade or below for seven days in a row.
If your electricity supplier belongs to this scheme and you're getting the guarantee part of Pension Credit, you will automatically get an annual discount of £140 off your electricity bill. You may also be eligible if you are on a low income and meet your energy supplier's criteria for the scheme.
Household Support Fund
The Government has introduced a new Household Support Fund to help those households in most need this winter with food, energy and water bills.
Halton Borough Council will administer the fund in Halton.
The fund covers the period 6th October 2021 to 31st March 2022, and is allocating assistance in the following areas:
Provision of free school meal vouchers during school holidays to parents of children entitled to free school meals to include the following holidays: October 2021 half term, Christmas 2021, February 2022 half term, and Easter 2022.

Food provision: Runcorn and Widnes Food Banks or Halton Citizens Advice (this will be provided by allocation of a voucher).

Help with energy bills: Halton Citizens Advice through vouchers issued by Fuel Bank Foundation as well as support from Energy Project Plus.

Halton Borough Council will continue to provide emergency welfare support through its Discretionary Support Scheme.

Halton Borough Council will provide support through its front line Adult Social Care teams to those households in need.
To find out more and to apply, visit https://www3.halton.gov.uk/Pages/CouncilandBenefits/CouncilTaxAndBens.aspx.
National Energy Action
National Energy Action, the national fuel poverty charity run their own Warm and Safe Homes Advice Service.
We're on hand to offer help, too!
Whether you need a benefit check to see if you're getting everything you're entitled to, help managing your budget or paying your rent, our teams are here to help you.
Our Welfare Benefit and Money Advice Team is available for you to seek advice and assistance with all matters relating to welfare benefits, debt and money advice.