< Back to news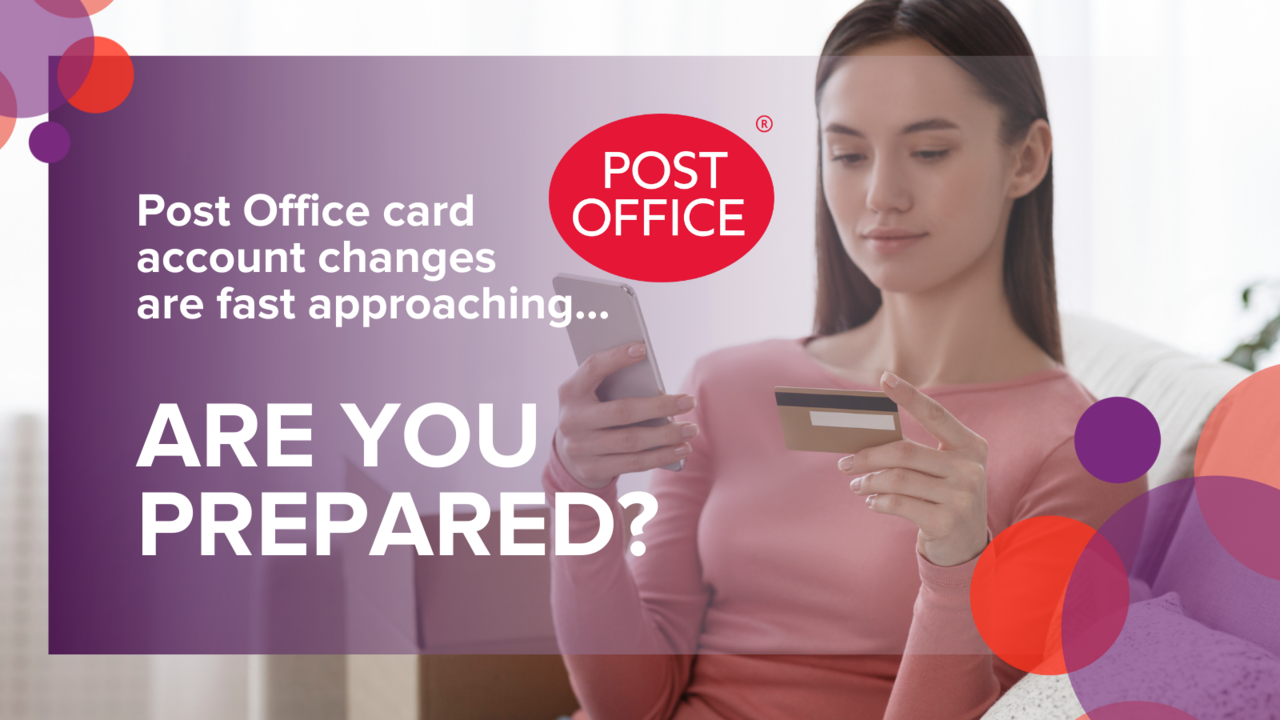 Post Office card account changes are fast approaching - are you prepared?
Date posted:
23rd August 2021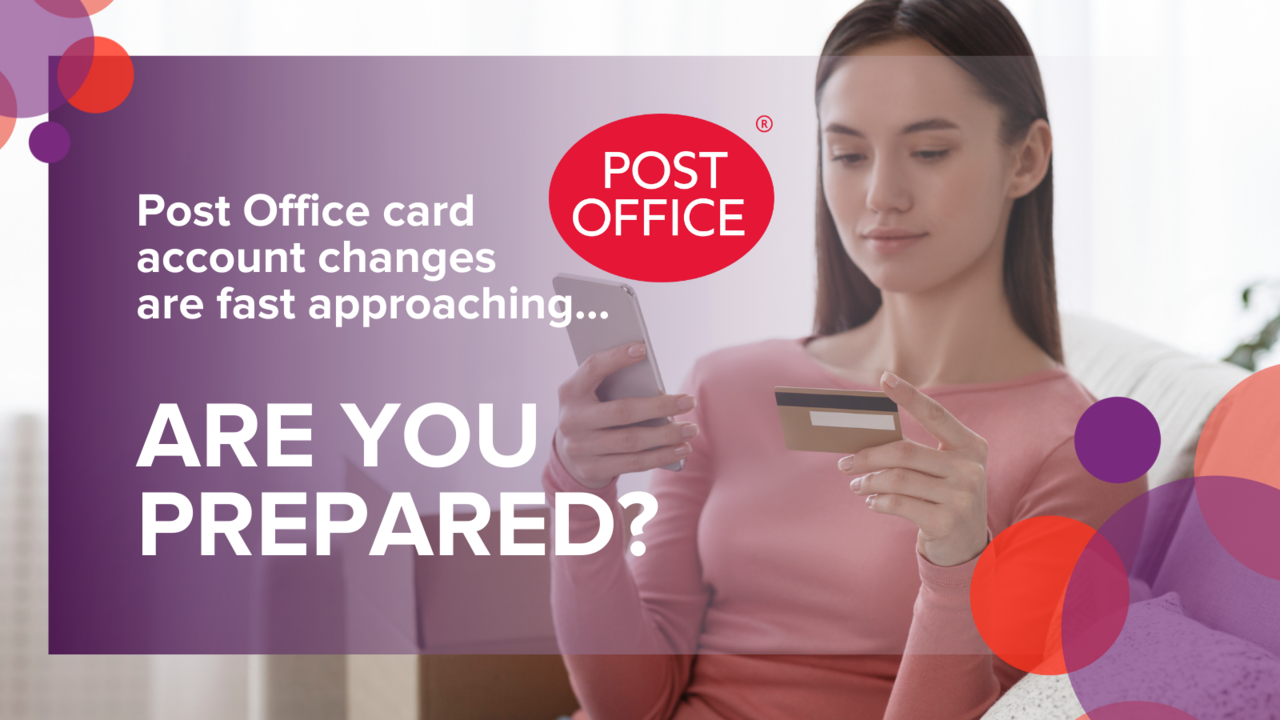 Text
We would like to alert our customers to the imminent Post Office card account closures for DWP benefit payments, and offer support and advice from our Welfare Benefit and Money Advice Team. 
A Post Office card account is a special bank account, only available from the Post Office for automated government payments such as benefits. It is different to any other current or savings account offered by the Post Office. 
From November 2021, the Department for Work and Pensions (DWP) and HM Revenue & Customs (HMRC) will stop making payments, including Universal Credit, other benefits, tax credits or state pension, into Post Office card accounts. 
Customers will still get their payment, but will have to use an alternative bank account to draw out money.  Those affected should receive a letter from the DWP soon explaining the next steps (if they haven't done so already). 
Benefits or state pension payments will not stop, nor will payment dates change. The only change is that customers will no longer be able to use a Post Office card account to draw out money. 
Customers can phone the DWP Customer Service centre on 0800 085 7133 (opening hours are 8.30am to 4.00pm, Monday to Friday) to provide new account details for their benefit or State Pension payments. 
All customers who are unable to provide a bank, building society or credit union account will be moved to the DWP voucher-based scheme called the Payment Exception service which provides access to payments via the PayPoint network. Payment Exception service payments can also be accessed via the Post Office network from the end of August 2021. 
Customers will start to be moved to the Payment Exception service (see below) from the end of August 2021 if they haven't yet contacted DWP with new account details. 
Are you affected by the change?  Help is at hand... 
From September the DWP will begin to move people who still have a Post Office account for benefit payments over to a Payment Exceptions Service.  This is due to post office accounts being withdrawn for DWP payments by the end of November.   The DWP have tried to contact everyone impacted and advise them they need to provide alternative payment details or open a new bank account or face restrictions on how they access their money. 
The Payment Exception service is a limited service available to benefit claimants without access to banking services, you are issued a payment card to collect your payments via a PayPoint outlet that offers this service, you are limited to cash withdrawals upto £100.  For full details and links to find your local PayPoint outlet check out the link:  https://www.gov.uk/payment-exception-service 
If you are impacted and haven't opened a bank account we can help! 
The main reason why people do not have a bank account is usually lack of ID or fear the credit check will lead to a refusal but much has changed in banking over recent years, The main being introduction of 'fee free' Basic Bank Accounts these provide no credit facility but allow you to set up direct debts; standing orders and pay online or with a debit card in shops - some only use a credit check to confirm your ID so this can great option? 
The Money Saving Expert Martin Lewis has a good article around the best basic bank accounts available https://www.moneysavingexpert.com/banking/basic-bank-accounts/ 
To find out more about fee free Basic Banking check out the Money Helper government site https://www.moneyhelper.org.uk/en/everyday-money/banking/basic-bank-accounts 
If you are worried about ID issues this blog has some useful tips on what banks should accept, often your tenancy agreement can be a good start. 
We urge any customers who are struggling with these changes to contact our Welfare Benefit and Money Advice Team. 
If you feel you need help or advice, you can self-refer using MyHaltonHome or our Halton Housing App, 24 hours a day, 7 days a week. 
You can also email welfare@haltonhousing.co.uk or call 0151 510 5024. 
Why not visit our Welfare Benefit and Money Advice Team page or see more advice on the Post Office website.