< Back to events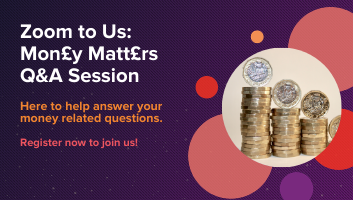 Zoom to Us: Money Matters Q&A Session - October 2021
Location:
Virtual Online Event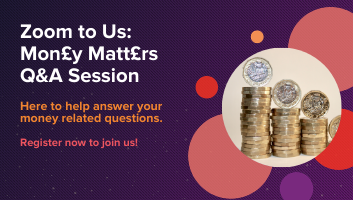 Text
Managing your money effectively is one of life's important skills. It's also important to ensure you are getting everything you are entitled to when it comes to welfare benefits.
Have you ever wondered how you claim disability benefits? Do you get confused over whether you can claim extra help when working on a low income?
Our special Zoom to Us: Money Matters Q&A session might just be for you.
Join us on Wednesday 27th October, when our Welfare Benefit & Money Advice Team will be available to help you with any money, benefit or welfare-related questions you might have and get you the answers.
The Team will also be answering common questions as well as busting some money matters myths including:
Can I get extra money as I am disabled?

Think you can't get help if you're struggling on a low income, you may be missing out!

Reached Pension Age? Let us help you navigate the benefit system.

On UC? You may be able to get help with Council Tax charges.

Ever wondered how to qualify for free school meals?

What can I claim now housing benefit has closed to working-age people?
We're here for an hour but you can drop in any time, ask your question and then leave.
Need to speak to us in private? We've got you covered…
We have "private rooms" available within Zoom should you wish to discuss a private matter with a member of staff.
We can't promise to have all the answers, but we might be the first step to getting the answer you need.
We can chat about any aspects of managing your money and we'll on hand to help will any queries about your domestic bills, switching tariff, or claiming benefits.
We're not financial advisers, but we can make sure you're asking the right questions and looking for information in the best places.
Register now to join us!
If you have any questions about the session then email debbie.jameson@haltonhousing.org.