< Back to news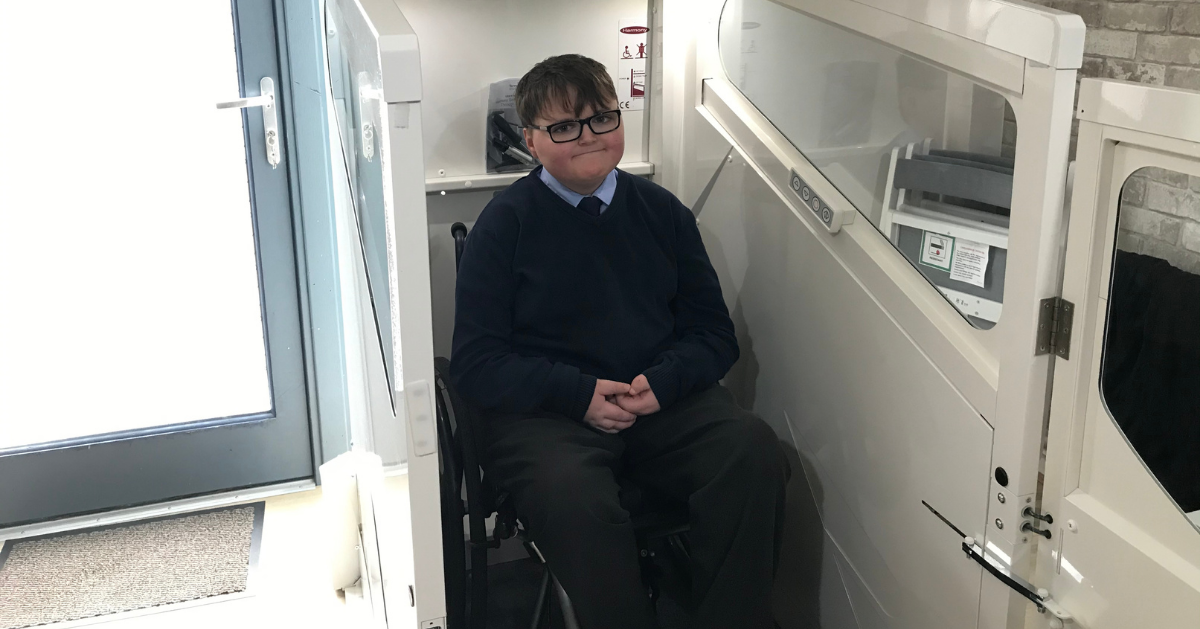 A lift to happiness and independence for Cameron
Date posted:
25th May 2021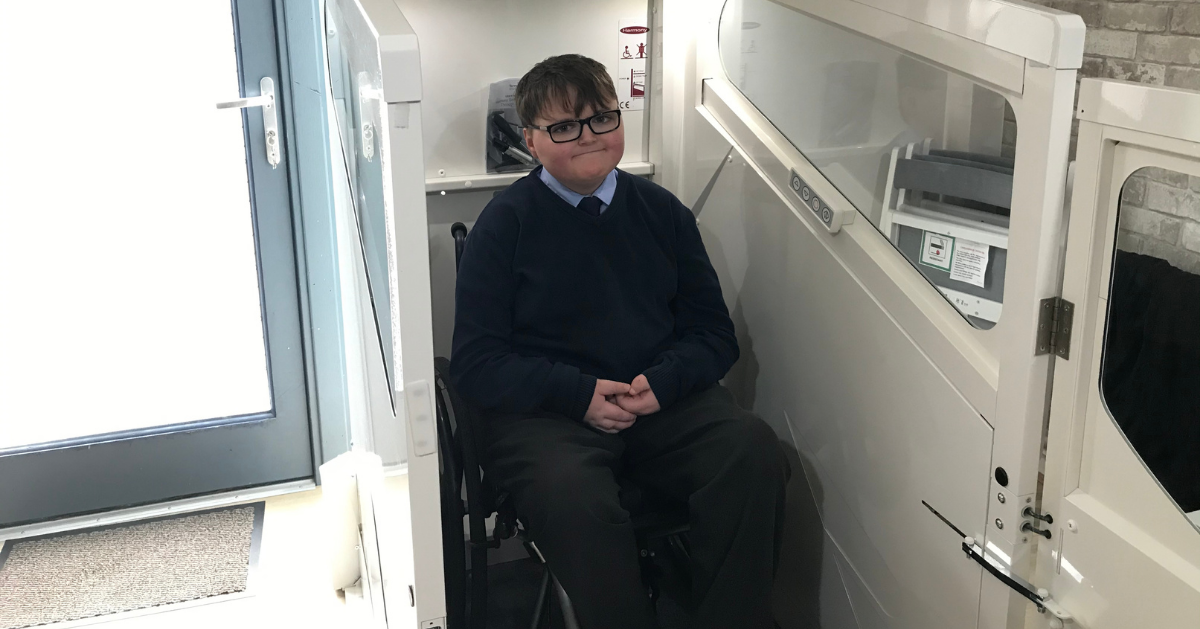 Text
A teenager's life has been "transformed" thanks to the installation of a through floor lift in his home.
16-year-old Cameron, suffers multicentric carpotarsal osteolysis syndrome - an extremely rare condition, Cameron is the only known person in the UK to suffer from the condition which results in the progressive loss of some of the bones in his hands and feet.
Halton Housing customer Cameron, who lives in Halton View had to crawl up the stairs on his bottom following surgery on his knees, with his parents often carrying him up – which became unfeasible and affected his quality of life.
The past 18 months have been particularly difficult for Cameron as he spent most of his days in his bedroom due to the struggle of the stairs, gradually leaving him more depressed and fed-up.
So, in a bid to combat his daily struggles, a purpose-built through floor lift has been installed by specialist contractors Terry Lifts on behalf of Halton Housing.
The compactly designed lift cuts through the ceiling between the kitchen downstairs and Cameron's room directly above, offering him the opportunity to live more independently.
Cameron's mum, Leanne said: "The installation of this lift has made life so much easier for Cameron. He's struggled for the last few years going upstairs on his bum and he doesn't have to do that anymore. It has completely transformed our family's life. He is a completely different person; his mood is up, and he is a lot happier. We're really grateful for the lift, it means that he will be able to live more independently, and improved conditions for Cameron. He even brings his washing and dishes down now!"
Thanks to the installation of the lift, Cameron is spending a lot more time downstairs with his family.
James Clark, Contracts Manager at Halton Housing said: "We are committed to improving people's lives and making a lasting difference to the day to day lives of our customers by supporting them to live independently and making the best use of the facilities within their home. I am sure this property adaptation will go a long way to improve Cameron's quality of life.
I would also like to thank our partners at Halton Borough Council for their support in making this adaptation possible."
Diane Major, Principal Customer Care Officer for Halton Housing said "It was a pleasure visiting Cameron and his family daily throughout the installation of the lift, I would like to thank them their patience and support whilst the team turned their lives upside down"
If you or someone living with you has a disability or is struggling to live independently, we may be able to help you adapt your home to make everyday tasks easier. We work in partnership with Halton Borough Council's Occupational Therapy and Social Services to find solutions that are appropriate to the person and to the property. Find out more about aids and adaptations.