< Back to news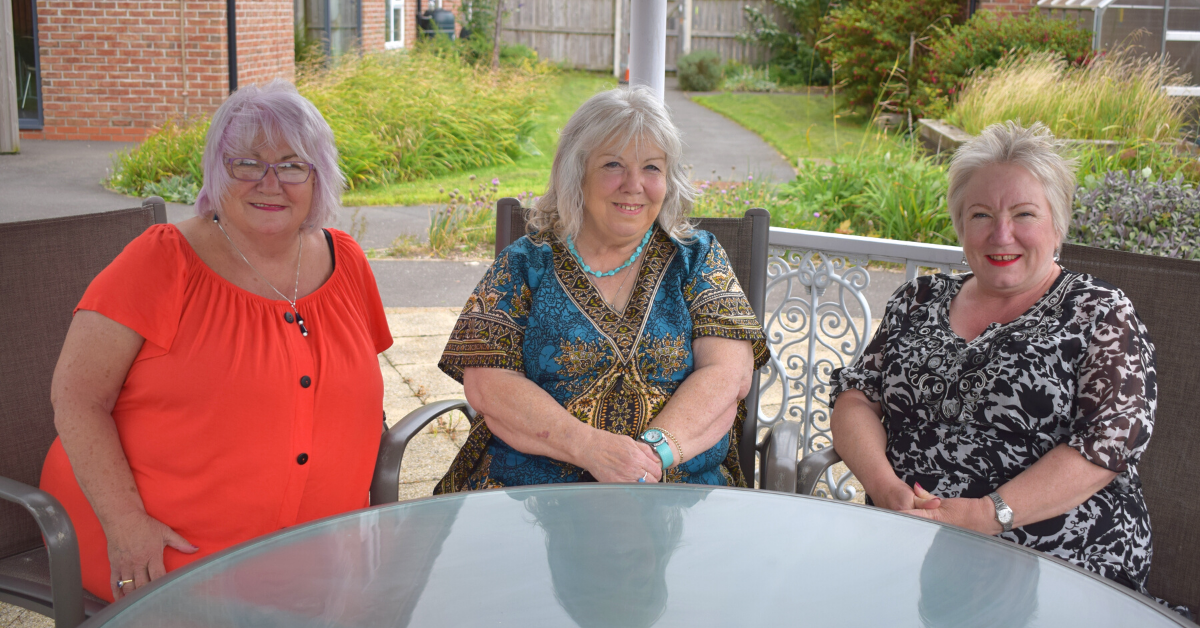 Three sisters call Naughton Fields home
Date posted:
4th February 2021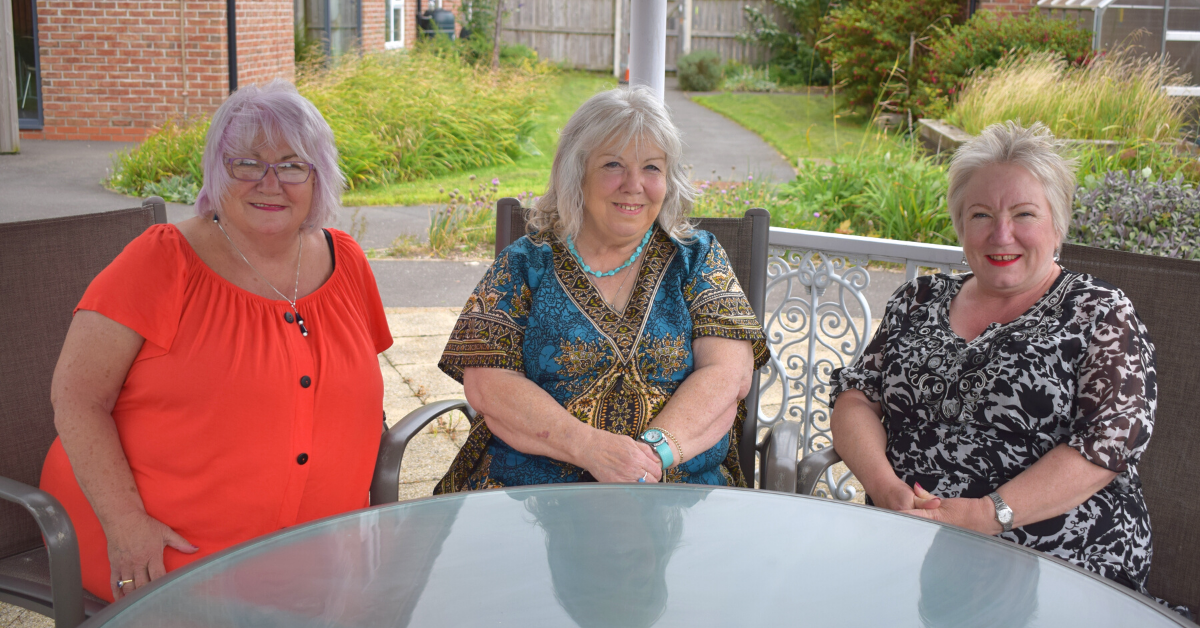 Text
Three sisters are now calling Naughton Fields independent living scheme in Widnes home after Clare, joined her sisters Ann and Pat who have lived happily at the scheme for several years.
Sisters Clare, Ann and Pat outside Naughton Fields independent living scheme on Liverpool Road in Widnes. Photograph taken in August 2020.
After her children had all left home, former registered nurse Clare, 62, who regularly visited her two sisters, knew she wanted to call Naughton Fields home. Clare explains: "I was never away from the place really as I was always visiting my sisters. I joined in most of the activities, trips and days out, so I knew most of the other residents anyway. When the opportunity to buy an apartment became available, my husband and I knew it was ideal for us. We sold our 4-bedroom house in Ditton which became too big for us and moved into Naughton Fields in January. Our children were a little apprehensive at first, but they soon came around to our way of thinking. My husband and I are both still active and it's just the ideal place for us – it's maintenance-free, we can come and go as we please and I'm close to my two sisters!"
Former Mental Health Support Worker, Pat, 72, has been living at Naughton Fields since it opened in 2012. Pat says: "We looked at downsizing for some time, including moving to a caravan in North Wales. I fell in love with Naughton Fields after visiting the show home and I love living here. The facilities available such as the bistro, the salon and gardens are excellent. It's conveniently located to amenities and transport routes into the town centre. One of the best things about Naughton is the fact that you never feel like you're on your own. The bistro allows you to catch up with friends and other residents offering a real sense of community. The entertainment at Christmas and other times of the year, along with trips are fabulous – I wouldn't want to live anywhere else!"
Oldest sister and former chef, Ann, 75, joined Pat at Naughton Fields three years ago after the stairs became difficult in her home. Ann says: "I really liked it after visiting Pat regularly, it just felt like the right move for me, so I was delighted when a ground floor apartment came up for sale – I was even allowed to bring my cat with me! It's lovely living here."
When coronavirus raised its ugly head last March, the support staff stepped up to ensure our customers and residents had the help and support they needed to ensure their safety and needs were met at this critical time.
Living at Naughton Fields during the coronavirus lockdown helped Ann and Pat massively as they lived with the comforting knowledge that support staff from Halton Housing were always available. Pat says: "Although we were kept apart and sheltered during the lockdown, it was comforting to know Ann was just a couple of doors away. The lovely gardens on our doorstep meant we could meet and catch up from a safe distance."
With all three sisters now living at Naughton Fields, they plan to spend even more time together. Clare says: "I really enjoy now only having to go upstairs or along the corridor to meet Pat and Ann. Our two brothers now only have to travel to one place to visit all three of their sisters! I'm looking forward to what the future holds living at Naughton Fields!"
Our independent living schemes Naughton Fields, along with Barkla Fields in Widnes and our new Hazlehurst scheme opening in 2022 in Runcorn enables people over 55s to enjoy a healthier, active, and more independent lifestyle in a community. The schemes are mixed tenure, meaning there are a number of options available to residents. Residents can rent, buy and/or become a shared owner of the apartments.
Find out more about living in one of our independent living schemes.