< Back to blog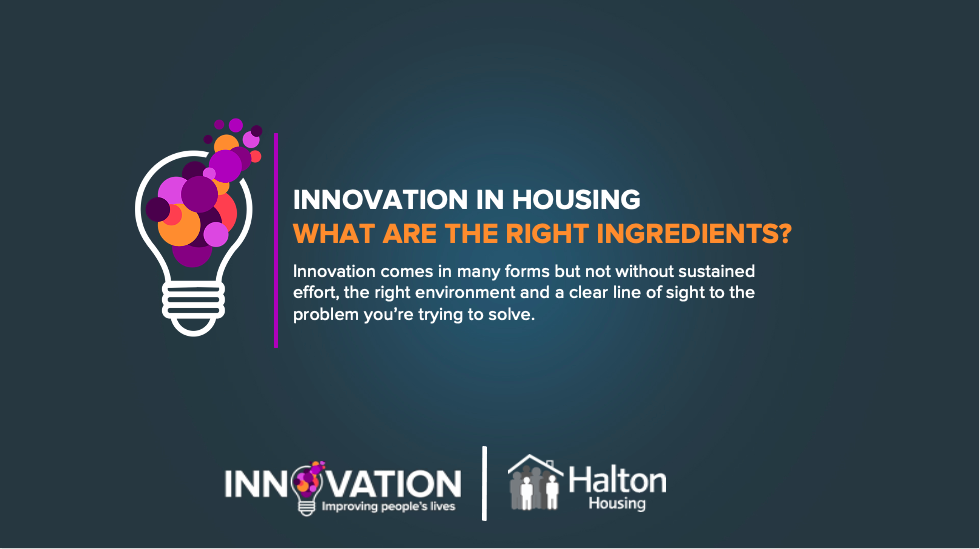 The ingredients for innovation
Date posted:
15th March 2021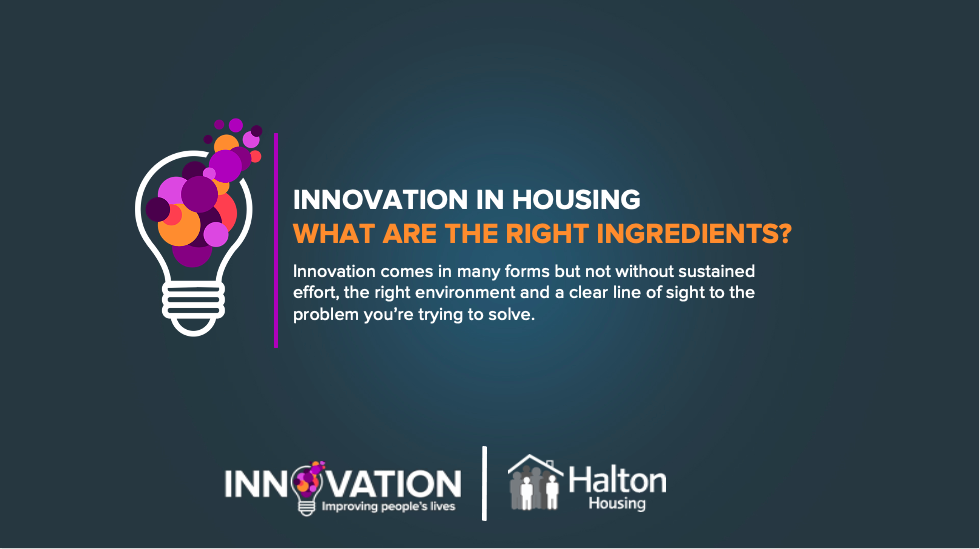 Text
We recently presented at the Housing Technology Conference 2021 where we discussed our recipe for innovation.
What are the right ingredients when it comes to innovation in housing? @paulcroston from @HaltonHousing is currently discussing this topic live at #HousingTech2021 pic.twitter.com/odiAVQxQ3A

— Housing Technology (@housingtech) March 3, 2021
For us, innovation is much more than technology. We aim to embed creativity and fresh thinking into everything we do, providing real solutions to real problems – from how we could enhance the way we deliver services to our customers, to how we develop our neighbourhoods, improve our properties, and support our people. 
However, we recognise that innovation will not happen by itself.  We must work hard to ensure that we challenge ourselves constantly to be creative and to come up with a pipeline of ideas that we feel will deliver value to our customers, properties, neighbourhoods, and people.  Here is the Halton recipe for innovation. 
It starts with leadership but not just the senior leadership of the organisation.  All leaders must model the behaviours we want to see when it comes to innovation.  We believe it can be anyone in the organisation that can have a great idea and they need support to make it a reality. 
With innovation comes some element of risk.  We accept that not every idea will be a complete success.  We will not take inappropriate risks; we are prepared to be bold and brave when looking to deliver innovation.  It is crucial that we learn from both the successes and failures when delivering innovation. 
We focus on outcomes and the path required to get there.  We commit ourselves to delivering an innovative idea once we are satisfied that it meets our criteria.  That commitment includes ensuring that we have the capacity from having the right skills, the resources, investment of money and support from all within our organisation. 
Every idea generated is reviewed to ensure that it will deliver against our criteria.  There must be a purpose that solves a real problem with a real solution. Value must be created and align with our strategic objectives set out in our corporate plan, OD3. 
Innovation is a team effort at Halton Housing. However, it is not just the Halton team but also a range of partners we work with to help us deliver ideas.  We work collaboratively with universities and companies in the private sector who are passionate about bringing new ideas to the housing sector. By having effective partnerships, we ensure that we have a future focus that takes in the regulatory obligations on us as a Housing Association but also looking at new technology, new methods of construction through to understanding the future needs of our customers. 
Culture of an organisation is integral to supporting an innovative approach.  We engage with our customers, colleagues, our board and our external stakeholders. We provide autonomy to our colleagues to allow them to bring forward ideas big and small, to develop partnerships that they feel will bring value into our organisation.  Recognition and reward are important elements of innovation and our people get great pride in seeing their ideas coming to fruition. 
Finally, we firmly believe that we must get the foundations right to allow creativity and innovation to thrive at Halton Housing.  From having the right IT equipment, agile and flexible working through to having the right support infrastructure to deliver projects are the absolute basics.  It does not stop there because we work hard to ensure our policies set the right behaviours, deliver a good employee experience, and ensure our workforce has the right skills and training at every level.  All of this is finally wrapped into our innovation brand which allows us to build credibility both internally and externally and create ever more innovative ideas. 
Find out more about our approach to innovation, and the work we have been doing with universities and other key stakeholders on several projects at www.haltonhousing.co.uk/innovation.
Paul keeps us at the forefront of digital and innovation, leading on the delivery of a refreshed IT strategy focussing on ensuring core systems are fit for the future, optimising the digital experience for customers and colleagues, managing data as a strategic asset and enabling intelligence-led decision making and a pre-emptive service model.