< Back to news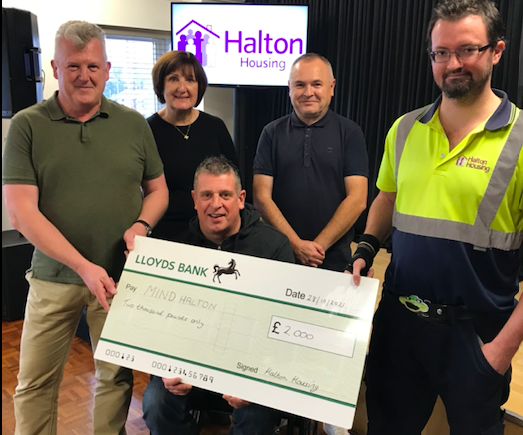 Halton Housing and Proud2BSafe make £2,000 donation to Mind Halton
Date posted:
5th November 2021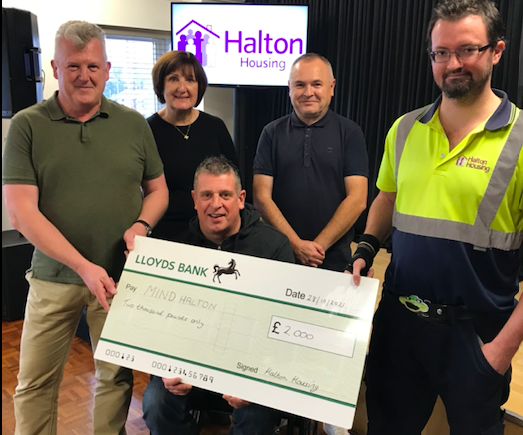 Text
Halton Housing, alongside Proud2BSafe has made a £2,000 donation to Mind Halton.
The donation comes following our Homes Team receiving a moving talk from global inspirational health, safety, wellbeing and resilience speaker, Jason Anker MBE from Proud2bSafe, as part of our activities in support of European Week for Safety and Health at Work. Jason and Proud2bSafe waived their fee in lieu of the charitable donation.
Mind Halton was chosen by Halton Housing Estate Services Officer, Andrew Coppard who won a health and safety quiz during the week.
Jason shared the story of his life before the incident, the day of the incident, the time spent in hospital and rehab, and his struggle with life over the last 26 years. The honest and sometimes graphic account of the devastation the incident has had on Jason and his family and friends really hit home the importance of adhering to workplace safety measures.
Speaking alongside Jason was Sean Toon who was with Jason at the time of the incident. He talked about the impact Jason's accident has had on him, his family, and friends, highlighting how many people are affected as a result of a workplace accident.
Mind Halton is part of a network of over 100 Local Minds who tailor trusted mental health services to our communities. 
Our colleagues' mental and physical health is more important now than ever before. We're proud that Andrew chose Mind Halton, as we recently launched colleague Wellbeing Champions who will play a key role in developing and supporting a culture that contributes to improved mental health and wellbeing.
Some of our colleagues and Proud2bSafe presented the cheque to Mind Halton following Jason's moving talk.